Central Maryland Region Attractions
Eight remarkable counties make up this region of Maryland, offering endless opportunities to enjoy our beautiful state. It is a timeless region, mixing the joys of land and water, which has drawn visitors since the 1600s. This is an area where you can tour lighthouses and stately homes on your way to visit the capital of our State or our Country (which was built on land donated by Maryland). The rolling hills of horse country ebb and flow until they lead you to the shores of the Chesapeake Bay and beyond. Nowhere else in Maryland can you experience the excitement of big city life so closely entwined with the magic of country charm. Hike, bike, picnic, visit a museum by day, and see world-class sports by night. Follow heritage trails, museum guides, or sit back and watch the world go by.
Annapolis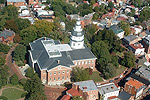 Come sail away to a place where history lives in a museum without walls. Lose yourself in our quaint seaport village steeped in hundreds of years of maritime heritage. The vibe is laid-back, the scenery is awe-inspiring and the local fare is seasoned with the flavors of the Chesapeake Bay. You'll want to come back again and again. Be sure to visit the U.S. Naval Academy, the William Paca Estate, and the State House.
(410) 280-0445
---
Baltimore & Ohio Railroad Museum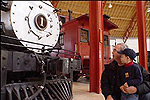 Universally recognized as the birthplace of American railroading, the Baltimore & Ohio Railroad Museum's site represents the vision, establishment, development and creation of the first common carrier railroad in the Western Hemisphere. Architecturally and historically significant railroad buildings and structures are preserved and interpreted as a part of the Museums collection. At Mt. Clare the birth, growth, zenith and legacy of the American railroad can be experienced like nowhere else in the World.
(410) 752-2490
---
Baltimore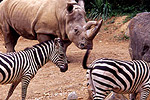 The City of Baltimore is not so much a place as an experience. Enjoy the Inner Harbor, Fort McHenry, the Baltimore Aquarium, the Maryland Science Center, Baltimore Orioles Baseball, Baltimore Ravens Football, and the Baltimore Zoo.
1 877 BALTIMORE, 1 877 225-8466
---
Calvert Marine Museum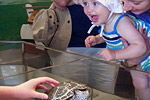 The Calvert Marine Museum is a public, non-profit, educational, regionally oriented museum dedicated to the collection, preservation, research, and interpretation of the culture and natural history of Southern Maryland. The museum's mission is to interpret three maritime themes: regional Miocene paleontology, estuarine life on the tidal Patuxent River and adjacent Chesapeake Bay, and maritime history of these waters. This unique museum is situated on 9 waterfront acres.
(410) 326-2042
---
Carroll County Farm Museum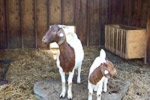 The Carroll County Farm Museum provides an opportunity to experience mid-nineteenth Century rural life. The first of its kind in Maryland, the Museum grounds include original farm structures, such as the Farmhouse, built in 1852-53, and a bank barn. Other buildings include a Smokehouse, Broom Shop, Saddlery, Springhouse, Living History Center, Wagon Shed, General Store exhibit, and a One-room Schoolhouse. Period artifacts and antiques complete the rural experience for visitorsk, along with tours, exhibits and demonstrations.
(410) 386-3880
---
Havre de Grace Decoy Museum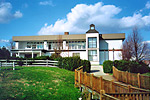 Located on the banks of the historic Susquehanna Flats, the Havre de Grace Decoy Museum houses one of the finest collections of working and decorative Chesapeake Bay decoys ever assembled. Through tours, lectures, demonstrations, special events, and a series of exhibits that range from single display cases to room-sized waterfowling displays, the Decoy Museum strives to communicate the heritage of Upper Bay decoy making to a national audience. With displays of 1200 decoys and decorative carvings by masters such as R. Madison Mitchell, Bob McGaw, and the Ward Brothers, the Decoy Museum provides the perfect opportunity to appreciate this unique American folk art form in a stunning setting!
(410) 939-3739
---
National Aquarium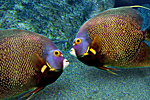 In 2003, separate aquariums in Baltimore, MD, and Washington, DC, joined as one "National Aquarium." The National Aquarium venues together hold living collections that include more than 16,000 animals from more than 660 species of fish, birds, amphibians, reptiles, and mammals living in award-winning, naturalistic habitats.
Baltimore: (410) 576-3800
---
National Harbor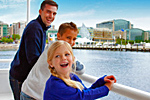 National Harbor is not so much a destination as it is an experience, committed to providing you with a never-ending variety of things to do in DC and the surrounding area. Immerse yourself in the sights, scents and sounds of this unique waterfront world. From fresh artisan cheese to cinema al fresco to family-friendly fun, National Harbor is a place to play. Rising from the banks of the Potomac just south of the Woodrow Wilson Bridge in Prince George's County, National Harbor is a 300-acre, mixed-used development that will include five world-class hotels, thousands of residential units, tree-lined promenades with scores of shops and offices, two marinas, the National Children's Museum, and much more … all along a mile and a quarter of Potomac waterfront. The expansive waterfront with its marinas and piers, designed to accommodate concerts, dinner cruises and other signature events, will also offer a water-taxi service on the Potomac to Georgetown and Alexandria. Even National Harbor's main thoroughfare, American Way, a 3,000-foot promenade down the spine of the property, is being designed as an homage to the American experience.
(877) 628-5427
---
Patuxent National Wildlife Preserve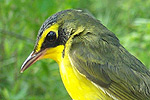 Established in 1936 by executive order of President Franklin D. Roosevelt, the Patuxent Research Refuge is the nation's only National Wildlife Refuge established to support wildlife research. Today most of the research on the refuge is conducted by the US Geological Survey (USGS) through the Patuxent Wildlife Research Center. With land surrounding the Patuxent and Little Patuxent Rivers between Washington, D.C. and Baltimore, MD, the Refuge has grown from the original 2,670 acres to its present size of 12,750 acres. Throughout decades of change, Patuxent's mission of conserving and protecting the nation's wildlife and habitat through research and wildlife management techniques has remained virtually unchanged. The refuge offers fishing, wildlife observation, nature trails, and many interpretive programs.
(301) 497-5580
---
Six Flags America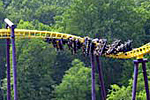 Six Flags America is America's theme park, located 15 minutes from Washington, DC or Annapolis and 40 minutes from Baltimore. The park offers everything from pulse-pounding roller coasters to gentler options for tots, including Whistlestop Park. The newest attractions include Bonzai Pipelines, where riders freefall down one of six outrageously fast and furious drop-hatch looping body slides, and Apocalypse, the park's eighth roller coaster, a 10-story stand-up steel adventure. The parks within the park include Hurricane Harbor, Gotham City, Olde Boston, Coyote Creek, Nantucket, Whistlestop Park, Skull Island, Southwest Territory, and Looney Tunes Movie Town.
(301) 249-1500
---
Washington, D.C.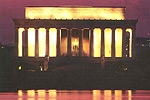 From its celebrated symbols of patriotism to its undiscovered neighborhoods, the sights and sounds of the nation's capital inspire millions of visitors every year. Packed with famous sights, free attractions, and an endless calendar of special events, Washington, DC offers year-round inspiring experiences. Just a handful of highlights include the Capitol Building, the White House, the Lincoln Memorial, the Jefferson Memorial, the Washington Monument, the Vietnam Veterans Memorial, Arlington National Cemetery, the Smithsonian Institute and the National Zoo.
(202) 789-7000
---
For additional information on attractions in the Central Region,
please visit the following chambers of commerce and tourism bureaus:
Annapolis/Anne Arundel County
Baltimore/Washington Corridor Chamber of Commerce
Calvert County Chamber of Commerce
Carroll County Chamber of Commerce
Eastern Baltimore Area Chamber of Commerce
Greater Bethesda Chevy Chase Chamber of Commerce
Greater Gaithersburg Chamber of Commerce
Greater Montgomery County Chamber of Commerce
Greater Silver Spring Chamber of Commerce
Harford County
Howard County Chamber of Commerce
Olney Chamber of Commerce
Prince George's County
Rockville Chamber of Commerce
Maryland State Chamber of Commerce