If you're looking to find memories that will last a lifetime, this is where you belong. Historic waterfront villages with grand homes and red bricked, tree lined sidewalks retain the charm of years gone by. Generations of watermen have harvested the bounty of the Chesapeake Bay and its tributaries to bring the rest of the world such delicacies as blue crabs, oysters, clams, rockfish, and more. Try casting your line in sparkling waters teaming with fish, or line up your putt on nationally acclaimed golf courses where the term water hole takes on a new meaning. If you're looking for a quiet retreat, lush forests and wildlife preserves offer sanctuary for all. Specialty shops, art galleries, historic bed and breakfasts, auctions, festivals, fairs and so much more. Just remember to bring your smile - you're going to need it here amidst a world of small town hospitality.
Academy Art Museum
Accredited by the American Association of Museums, the Academy Art Museum is a fine art museum founded in 1958 and located in historic, downtown Easton on Maryland's Eastern Shore. Providing national and regional exhibitions, performances, educational programs, and both visual and performing arts classes to adults and children, the Museum also offers a vibrant concert and lecture series, which attracts numerous top musicians, curators and scholars from throughout the art world. The Museum's Permanent Collection consists of works on paper and contemporary works by American and European masters.
(410) 822-2787
---
Blackwater National Wildlife Refuge
With over 23,000 acres of tidal marshlands, freshwater ponds, loblolly pine/hardwood forests, and croplands, Blackwater National Wildlife Refuge is one of the largest conservation areas in the state of Maryland. It is also one of the most spectacular locations for viewing wildlife in the entire Chesapeake Bay region. Blackwater is distinguished for having not only the highest population density of nesting bald eagles in the eastern United States north of Florida, but also the largest protected population of endangered Delmarva fox squirrels, and one of the largest wintering concentrations of Canada and lesser snow geese along the Atlantic Flyway. Visitors can get close to nature on several walking trails and a "wildlife drive" that leads guests by car or by foot along five miles of marshes, woods, fields, and fresh water ponds. There is also a visitor's center with exhibits and films for daily viewing and an auditorium for special, prescheduled programs.
(410) 228-2677
---
C&D Canal Museum
The Chesapeake & Delaware Canal Museum, which is adjacent to Chesapeake City and operated by the U.S. Army Corps of Engineers, is housed in the old canal pump house and is open to the public, free of charge. The museum contains exhibits and canal artifacts. One of its main features is the oldest canal engine of its kind in the United States, still on its original mount.
(410) 885-5622
---
Chesapeake Bay Maritime Museum
The Chesapeake Bay Maritime Museum was founded in 1965 on Navy Point in St. Michaels, a Talbot County riverfront village on Maryland's Eastern Shore. The Museum is dedicated to furthering an interest in, understanding of, and appreciation for the culture and maritime heritage of the Chesapeake Bay and its environs. To fulfill our Mission, the Museum strives to be a premier museum, excelling in communicating to the public the history and culture of one of America's major maritime regions — the Chesapeake Bay. Today's eighteen-acre waterfront campus includes Navy Point, which was once the site of a busy complex of seafood packing houses, docks, and workboats. On permanent display at the campus is the nation's most complete collection of Chesapeake Bay artifacts, visual arts, and indigenous water craft. Interpretive exhibitions and public programs cover the range of Chesapeake Bay maritime history and culture - including Native-American life, Anglo-American settlement, seventeenth- and eighteenth-century trans-Atlantic trade, naval history, the Bay's unique watercraft and boat building traditions, navigation, waterfowling, boating, seafood harvesting, and recreation.
(410) 745-2916
---
Eastern Neck National Wildlife Refuge
The Eastern Neck National Wildlife Refuge, administered by the US Fish & Wildlife Service, is a 2285 acre major feeding and resting place for migratory and wintering waterfowl at the mouth of the Chester River on Maryland's Eastern Shore. It offers unsurpassed opportunities for bird watchers and is home to the endangered Delmarva Fox Squirrel and the threatened Southern Bald Eagle. It has six miles of roads and trails open for hiking most of the year.
(410) 639-7056
---
Elk Neck State Park & Forest
Elk Neck State Forest and Park's sandy beaches, marshlands, and heavily wooded bluffs are contained within a peninsula formed by the North East River, Elk River and the Chesapeake Bay. This Chesapeake Bay Gateway site provides excellent trail recreation for hiking and mountain biking throughout more than 2,000 acres of scenic woodlands. An easy walk to the Bay's highest lighthouse, Turkey Point, provides splendid views of the Elk River and the Chesapeake Bay.
(410) 287-5333
---
Mount Harmon Plantation
Mount Harmon Plantation is a delightful, relatively small plantation located on Back Creek, a small branch off the Sassafras River. The Plantation began in 1651 as a land grant of 350 acres to Godfrey Harmon by Caecilius Calvert, the second Lord Baltimore who was then owner of all of "Maryland". The manor house at Mount Harmon is a three-story brick structure built about 1730. It stands on a knoll virtually surrounded by Back Creek and McGill Creek. On early maps the area was known as "World's End". The house is an excellent example of Georgian architecture. The property also includes gardens, nature trails and, along the water, the early tobacco shipping barn.
(410) 275-8819
---
Oxford-Bellevue Ferry
Established in 1683, the Oxford Bellevue Ferry is believed to be the nation's oldest privately operated ferry service. The ferry crosses the Tred Avon River between Oxford, Maryland and Bellevue, Maryland. The 3/4 of a mile trip takes 7-10 minutes, and the 20 minute round trip shuttle service can accommodate nine vehicles, passengers, bikes, and motorcycles. St. Michaels, Maryland is a pleasant seven mile bike ride or drive from the Bellevue landing.
(410) 745-9023
---
Plumpton Park Zoo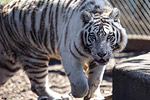 Visit this garden with exotic animals in a pastoral country setting. The zoo is home to 127 animals of 60 different species while being the home of the Jeremiah Brown House and Mill Site which is on the National Register of Historic Places.
(410) 658-6850
---
Spocott Windmill
Dorchester County, Maryland's Spocott Windmill is a fully operating English-style post windmill and a popular tourist attraction. Reconstructed in 1972, it is the only existing windmill used for grinding grain in Maryland. Also on the property are a colonial tenant farmhouse and a one-room schoolhouse.
(410) 463-1661
---
For additional information on attractions in the Northern Eastern Shore & Upper Chesapeake Region,
please visit the following chambers of commerce and tourism bureaus:
Baltimore County
Caroline County
Cecil County Chamber of Commerce
Dorchester County
Kent County Chamber of Commerce
Queen Anne's County Chamber of Commerce
Talbot County
Maryland State Chamber of Commerce