The story of our nation unfolds here in the Northern Region of Maryland. In this land of pioneers, soldiers and heroes, just let yourself be transported back in time. If you listen carefully, you can almost hear the sounds of wagons and stagecoaches, battle cries and victory yells. Today, world-class wines are produced here, honoring a heritage that dates back over 300 years. This is a spiritual land, full of shrines and monuments, mansions and museums, waterfalls and wildlife preserves, antiques and boutiques. Whether you return to the past, enjoy the adventure of whitewater rafting, or take in a baseball game, Maryland's Northern Region is a must see.
Antietam National Battlefield
Established by Act of Congress on August 30, 1890, this Civil War site marks the end of General Robert E. Lee's first invasion of the North in September 1862. The battle claimed more than 23,000 men killed, wounded, and missing in one single day, September 17,1862, and led to Lincoln's issuance of the Emancipation Proclamation.
(301) 432-5124
---
Catoctin Mountain Zoological Park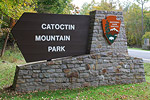 This naturally wild park protects more than 300 species.
(301) 271-3180
---
Crystal Grottoes Caverns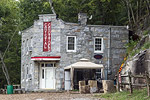 Maryland's only commercial underground caverns, a spectacular forty minute guided tour takes visitors along dry, clean walkways through brilliantly lighted chambers. Knowledgeable guides explain the history, formations, and geological aspects of the Caverns.
(301) 432-6336
---
Fort Frederick State Park
From the French and Indian war period, Fort Frederick is the best preserved original stone fort in North America. The site of Maryland's frontier defense during the French and Indian War (1754-1763), the Fort's stone wall and two barracks have been restored to their 1758 appearance. Historic displays are in the Fort, barracks and Visitor Center. The park annually holds military reenactments and other special events. Park lands adjoin the Potomac River and the Chesapeake and Ohio Canal passes through park acreage. Fort Frederick was Maryland's first state park.
(301) 842-2155
---
National Museum of Civil War Medicine
The National Museum of Civil War Medicine's main location is in Frederick, with a second location at the Pry House Field Hospital Museum at the Antietam National Battlefield. During the Civil War, Frederick, a busy crossroads on America's first National Road and first railroad, was witness to three Confederate invasions, thirty-eight skirmishes and two major battles (South Mountain and Monocacy) as hundreds of thousands of Northern and Southern soldiers marched through the community. Frederick epitomized the tragedy, turmoil and sacrifice that attended four desperate years of fighting. The museum offers a look at the Civil War through the eyes of the wounded and caregivers.
(301) 695-1864
---
National Shrine Grotto of Lourdes
Pilgrims from around the world visit the oldest replica of the famous Grotto in the Western Hemisphere. The museum is dedicated to America's first native born saint.
(301) 447-5318
---
Maryland Theatre
The Maryland Theatre was originally a vaudeville house built in 1915, partially destroyed by fire in 1974 and reopened in 1978. The marvelous acoustics are only surpassed by the wonderful ambiance of The Theatre. The Theatre provides comfortable seating for 1300 at performances of country artists, comedians, orchestra concerts, children's shows, musicians, recitals, stage shows, and more.
(301) 790-2000
---
For additional information on attractions in the Northern Region,
please visit the following chambers of commerce and tourism bureaus:
Frederick County Chamber of Commerce
Hagerstown-Washington County Chamber of Commerce
Maryland State Chamber of Commerce