The birthplace of religious freedom, the Southern region of Maryland is where settlers first stepped ashore in 1634 on land that has retained the charm of 300 years ago. Surrounded on three sides by water, this gorgeous area offers many miles of shoreline, rivers, and bays. The surrounding waters rule the lands and lives of those who live here. Long scenic drives will delight you with many wondrous creatures - bald eagles, blue heron, and barred owls to name a few. Fishing, canoeing, and fossil hunting are popular sports, and hiker-happy state parks offer thousands of acres of wilderness to explore. No matter what you choose to do, don't leave the region before tasting its famous one-of-a-kind stuffed ham. But be careful - you may not want to leave this gentle land.
Historic St. Mary's City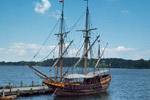 Historic St. Mary's City, the site of the fourth permanent settlement in British North America, Maryland's first capital, and the birthplace of religious toleration, invites you to explore the lifeways of Maryland's first citizens. Historic St. Mary's City is an exciting mix of colorful living history and fascinating archaeology, all set in a beautiful tidewater landscape. Lord Baltimore's 17th-century capital stands ready to be rediscovered.
(301) 862-0990
---
Patuxent River Naval Air Museum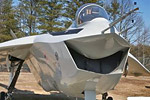 The official Navy Museum includes the Naval Air Test and Evaluation Museum, the nation's only museum dedicated to naval aviation. In addition to numerous outdoor display aircraft that actually played a vital role in the Research, Development, Test and Evaluation (RDT&E) of Naval aviation, the Patuxent River Naval Air Museum also includes a wide variety of indoor exhibits.
(301) 863-7418
---
Piney Point Lighthouse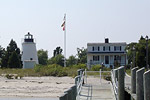 The Piney Point Lighthouse Museum was relocated to higher ground on the park's northern campus after being flooded and closed by Hurricane Isabel in 2003. This two-story structure houses the Lighthouse Lens Museum Store, museum exhibits, and visitor information.
(301) 769-2222
---
Point Lookout State Park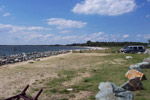 Recreational opportunities abound on this picturesque peninsula formed by the Chesapeake Bay and the Potomac River. Swimming, fishing, and boating are just a few of the activities to be enjoyed in this beautiful bay setting. The park's peaceful surroundings belie its history as the location of a prison camp which imprisoned as many as 52,264 Confederate soldiers during the Civil War. A museum on site recounts this vivid history.
(301) 872-5688
---
Port Tobacco
One of the oldest communities on the East Coast, Port Tobacco first existed as the Indian settlement of Potopaco and was colonized by the English as early as 1634. Port Tobacco became a major seaport during the late 1600s and was a part of John Wilkes Booth's escape route. Sites to visit include the reconstructed Port Tobacco Courthouse that is furnished as a 19th Century courtroom and has exhibits on tobacco and archeological finds located upstairs; Catslide House, one of the four surviving 18th Century homes in the area; the restored One-Room Schoolhouse that is the original structure built in 1876 and used until 1953; and Thomas Stone National Historic Site, the plantation home of one of the four signers of the Declaration of Independence.
(301) 392-3418
---
Solomons Island
Sail away to Solomons, a picturesque island town nestled in the joining of the Patuxent River and the Chesapeake Bay in Calvert County Maryland. Discover nature's wonder and pan for ancient sharks teeth at nearby Calvert Cliffs State Park, enjoy a day on the water, or take a casual stroll or bike ride around the island. Stroll the Riverwalk and catch the sun as it dances on the waters of the wide Patuxent. Wander through unique gift shops, enjoy a seafood feast in one of our casual restaurants, hop a jet ski, or rent a boat, buy some bait, and try your luck catching dinner.
(410) 326-6027
---
For additional information on attractions in the Southern Region,
please visit the following chambers of commerce and tourism bureaus:
Charles County Chamber of Commerce
St. Mary's County Chamber of Commerce
Maryland State Chamber of Commerce