Majestic mountains covered by pristine forests mark this four-season resort paradise. Crystal clear streams gently cascade over ancient rock formations and lead to roaring rivers. The timeless solitude of historic miners' villages and old mill towns takes you back to a time when America's Western expansion flowed through these lands. Outdoor adventure beckons to you from everywhere. Whether you choose the fun of white water rafting, kayaking, canoeing, fishing, skiing, golfing, horse back riding … or take a train ride, browse festivals or fairs, or just relax at a peaceful campsite overlooking fertile valleys and forested slopes … you'll never forget the wonders of the mountain side of Maryland!
Backbone Mountain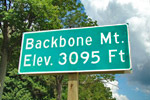 Backbone Mountain is a mountain range in the central Appalachians, part of the in the Allegheny Mountains, stretching from northern West Virginia into Garrett County in western Maryland. The summit of the ridge is Hoye Crest (named for Captain Charles Hoye of the Garrett County Maryland Historical Society), at 3,360', the highest elevation in the state of Maryland. A 1.2 mile forested trail offers a moderate 40-minute climb to the summit from a trailhead a mile south of Silver Lake on US Route 219.
(301) 223-1948
---
Chesapeake & Ohio Canal National Historical Park
The C&O Canal follows the route of the Potomac River for 184.5 miles from Washington, D.C. to Cumberland, MD. The canal operated from 1828-1924 as a transportation route, primarily hauling coal from western Maryland to the port of Georgetown in Washington, D.C. Hundreds of original structures, including locks, lockhouses, and aqueducts, serve as reminders of the canal's role as a transportation system during the Canal Era. In addition, the canal's towpath provides a nearly level, continuous trail through the spectacular scenery of the Potomac River Valley. Every year millions of visitors come to hike or bike the C&O Canal in order to enjoy the natural, cultural, and recreational opportunities available.
(301) 722-8226
---
Cranesville Sub-Arctic Swamp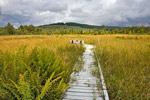 A window into ice ages past, Cranesville Swamp is located in a "frost pocket," an area where the surrounding hills capture moisture and cold air that conspire to create a landscape more reminiscent of habitat found much further north in Canada, including many rare species of flora. A property of The Nature Conservancy, an information booth identifies several trails, one of which includes a quarter-mile boardwalk over the swamp. Admission is free.
(301) 897-8570
---
Deep Creek Lake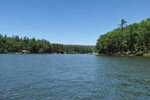 Deep Creek Lake State Park and Natural Resources Management Area includes approximately 1 mile out of 65 miles of total shoreline on this, Maryland's largest man-made lake. Access is available for fishing, swimming, and boat launching. Several picnic areas offer excellent views of the lake with easy access to the beach and other facilities. Interpretive programs, consisting of evening campfire programs, and talks and hikes on the natural and cultural resources of the park, are led by a park naturalist and are available at various times throughout the year. Fishing is generally good on the lake with stocked trout, walleye, bass, and yellow perch being the most abundant. Meadow Mountain offers opportunities for hiking. Trail difficulties range from moderate to difficult. A trail guide is available at Park Headquarters and at the Discovery Center.
(301) 387-7076
---
Great Allegheny Passage
This spectacular hiking and biking trail links to the C&O Canal Towpath, creating a continuous, off-road trail experience 320 miles from Washington, DC to near Pittsburgh. Marvel at the many fantastic railroad structures as the Great Allegheny Passage follows the route of the historic Western Maryland Railroad. Starting in Cumberland the trail parallels the Western Maryland Scenic Railroad which offers rides, with bicycles if desired, up to Frostburg.
(301) 777-2161
---
La Vale Toll Gate House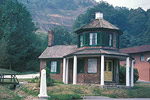 The Cumberland or National Road was constructed, from 1811 through 1818, to link Cumberland, Maryland, with the Ohio River. It became the principal transportation artery to the trans-Appalachian West. Toll gates were added in later years when this federal project was turned over to the individual states. Listed in the National Register of Historical Places, the La Vale Toll Gate House, built in 1835-1836, is a four-room structure which housed the gatekeeper who collected tolls along the road until the 1900's. It was Maryland's only tollgate on the National Road, which continued to serve as the main highway connecting the East Coast and the Midwest until the construction of the Interstate highway system in the 1960s.
(410) 489-9100
---
Rocky Gap State Park
Rocky Gap State Park encompasses over 3,000 acres of public land for guests to enjoy. Rugged mountains surround the park which features 243-acre Lake Habeeb. The lake is fed by Rocky Gap Run which winds its way through an impressive mile long gorge displaying sheer cliffs, overlooks and a hemlock forest dense with rhododendron. Overlooking the lake is Evitts Mountain, named for an early settler in Allegany County. Fishing is excellent in Lake Habeeb and is permitted 24 hours a day, seven days a week, along with non-motorized boating. The lake is home to panfish, trophy trout, large and smallmouth bass. Rocky Gap offers a variety of hiking trails for all levels of ability, several of which include spectacular scenery.
(301) 722-1480
---
Swallow Falls State Park
This mountain park is located nine miles north of Oakland, Maryland and contains some of Maryland's most breathtaking scenery. The Youghiogheny River flows along the park's borders, passing through shaded rocky gorges and creating rippling rapids. Muddy Creek Falls is a crashing 53-foot waterfall – a spectacular sight. Tall hemlocks dominate the silent woods. The meandering trails through Swallow Falls guide hikers to some of the most breath-taking scenery in Western Maryland.
(301) 387-6938
---
Western Maryland Scenic Railroad
Recapture the romance of railroading's golden era on a restored early 20th century steam train ride through the mountains between Cumberland and Frostburg. Enjoy three centuries of transportation history, scenic excursions, first class dining cars, murder mystery/dinner trains and Santa's Express, holiday specials.
1 800 872-4650
---
Wisp Ski Resort
This premier ski resort offers 32 downhill slopes and trails. Wisp is the only four-season downhill ski resort in Maryland. A wide range of summer activities include a mountain coaster, zip lines, ropes courses, whitewater rafting, 36 holes of golf, disc golf, and much more.
(301) 387-4000
---
For additional information on attractions in the Western Region,
please visit the following chambers of commerce and tourism bureaus:
Allegany County Chamber of Commerce
Garrett County Chamber of Commerce
Maryland State Chamber of Commerce