WELCOME TO CAMPING IN MARYLAND
Maryland welcomes you! We're famous for our sun drenched seashore, delectable blue crabs and beautiful boating waters, but Maryland's landscape is actually quite diverse. Maryland's Western region takes extreme recreation to a new level. Rapidly flowing rivers and rugged mountain trails provide year-round excitement. The mountain side of Maryland is an outdoor enthusiast's dream, bringing trails and tradition together.

With its 12,407 square miles of land and water, everything about Maryland is colorful, unique and full of out-of-the-ordinary camping ­destinations. We offer four seasons of exciting and varied outdoor pursuits, fabulous shopping, award winning restaurants and wineries, museums, professional sports teams and attractions that vary from the 180' tall, air conditioned Capital Ferris Wheel to the birthplace of the Star Spangled Banner, Fort McHenry.

Whether you call Maryland home, or are just stopping by for a visit, please take the time to stay in a private Maryland Campground. Get away for a night, a week, or a season, and find out what we mean when we say we "pamper our campers". Camping in Maryland just comes naturally!
Click a region to explore Maryland campgrounds.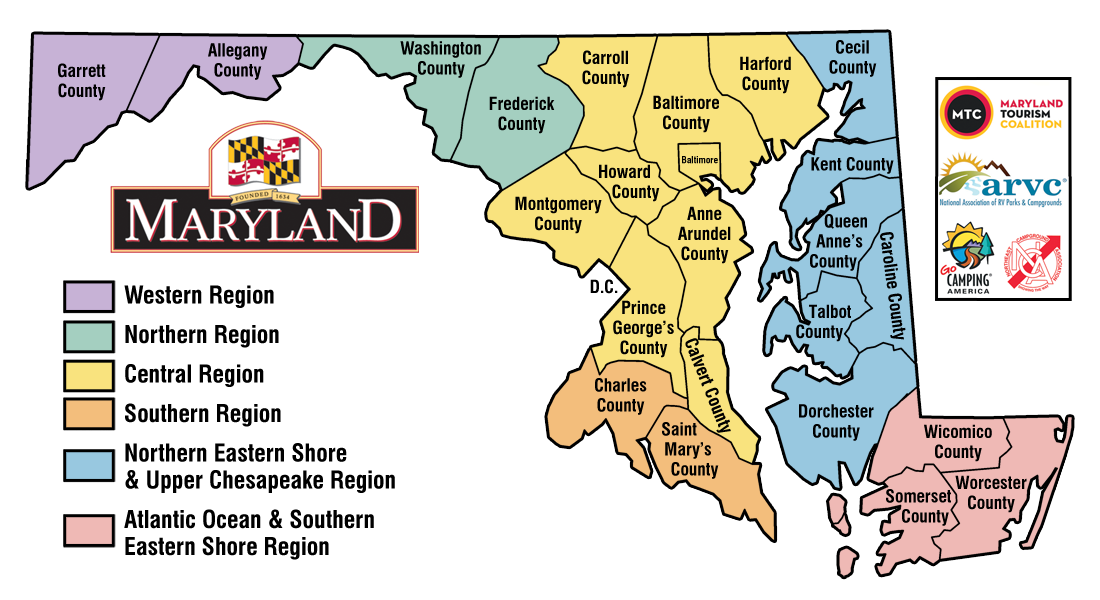 MAC Members Ban the Importation of Firewood
Help stop the spread of the Emerald Ash Borer Beetle through transported firewood.
The Maryland Association of Campgrounds and the Maryland Department of Natural Resources' Forest and Park Service have joined forces in taking active measures in the State's effort to stop the spread of the emerald ash borer by introducing a new policy designed to prevent campers and other visitors from bringing outside firewood into campgrounds. Our members are notifying campers of the restriction at the time of reservation. Only firewood purchased on location may be used.

Any and all firewood transported into a campground from any source outside will be required to be burned immediately upon arrival at the campsite. This must be done in a safe manner while abiding by applicable campfire rules and regulations. Any such firewood may not be unloaded from any vehicle unless the firewood is placed directly on the fire.

"The emerald ash borer is a non-native, invasive wood boring insect that has the potential to devastate the ash tree population and radically alter the forest composition of Maryland," said Maryland State Forester Steve Koehn. "It has been found in parts of Maryland and nearby states and is spread most rapidly through movement of infested wood products - most notably firewood."

Please help is in trying to stop the spread of this devastating pest. We apologize for any inconvenience. We thank you for your cooperation and sincerely hope you enjoy your time with us.
Here's a public service announcement from
the United States Department of Agriculture …